Sports Perimeter LED Display
Voxson's Sports Perimeter LED displays are perfect for advertising applications at sporting events. Suitable for both indoor and outdoor venues, these screens are ideal for side of field and court use. Voxson's Sports Perimeter LED displays are a modular design allowing for simple assembly and flexibility in sizing. The screen also features a rubberised mask around the individual LEDs protecting both the LEDs themselves as well as players who may inadvertently collide with the screen. High refresh rate ensures that the images displayed on screen are accurately captured on camera at televised events.
(If your requirements differ from the product specifications below please call us on 07 3268 0700 as we are able to customize a product to suit your needs.)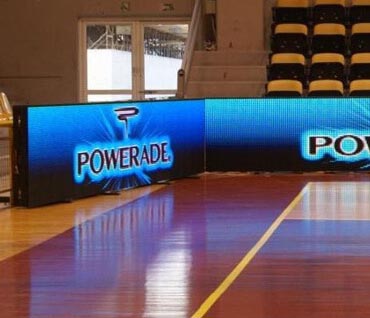 Quality cabinet construction & design

IP65 (front) IP54 (rear) waterproofing

Front & rear serviceable

Easy to maintain & install
Rubberised mask and stands

Uniform cabinet height ensured by adjustable foot cups
.
---
.
Want to find out more? Contact Us Today on (07) 3268 0700. Alternatively fill out the contact form below: