Voxson V1-8 P10 Solar Powered Full Colour Mobile LED Screen
Also available with Smiley face Radar speed detection.
Screen: 1.92m x 0.96m. Viewing Distance: 10-100m.
Available for Purchase from $115/week with Voxson finance option
Voxson V1-8 LED Screen
Voxson V1-8 P10 Solar Powered Full Colour Mobile LED Screen is an ideal mobile advertising solution for any

situation

.

Purchase now from around $115+GST per week.*

Or Call us for a rental deal.
Introducing Voxson V1-8, a full colour Mobile LED. Sign with a P10 Pixel Pitch. V1-8 features a high definition LED display and an Australian made, robust and reliable trailer. Powered by electricity and solar energy, with 2 batteries, and a charger, it is an ideal advertising solution for any environment.
Full-colour graphics, video, or up to 8 lines of text can be displayed perfectly on this P10 pixel pitch screen. 2.45 square metres LED screen is 960 mm by 1,920 mm in size. P10 is a popular choice for distances of 10 to 100 metres.
V1-8 has an onboard cloud based control system with Wi-Fi and optional 4G connectivity for easy remote ads management.
Trailer is made from industrial grade aluminium and has a number of useful features: Hydrolic lift for mast height adjustment, Forklift pockets for easy handling, Retractable towbar, Foldable drawbar, Solar system with two 125 ampere hour batteries, Magnesium alloy wheels, wheel chains and security locks.
Revolutionise the way you advertise, with Voxson V1-8 mobile LED sign. Contact Voxson on 1300 215 400 or simply complete the contact form to learn more.
*Terms: Lease to own over 5 years with no deposit and no residual, subject to ABN number and finance approval. Please also note that repayments can be reduced dramatically with a deposit and or residual.
Mini Gallery – Voxson Mobile LED Signs
Promote your latest deals or new releases and capture new audiences with an LED screen for hire from Voxson

Contact Voxson Today for the Best Deals on LED Screens
908 Kingsford Smith Drive Eagle Farm, QLD, 4009, Australia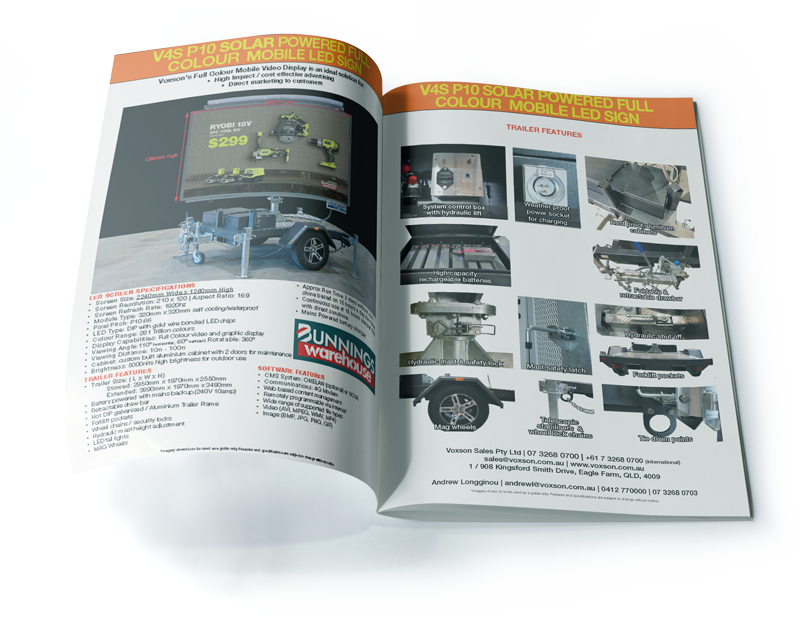 Download Voxson's Free Mobile LED Signage Catalogue


Other Voxson LED Products which might be of interest…