Voxson V4S P10 Solar Powered Full Colour Mobile LED Screen
(Also available with Smiley face Radar speed detection)
Screen: 2.24m x 1.28m. Viewing Distance: 10-100m.
Available for Purchase or Rent
Voxson V4S LED Screen
The V4S LED screen has been successfully developed utilising Australian advanced engineering and technology to develop the first H

igh definition S

olar LED screen capable of operating on roads and in retail environments.

Purchase now from around $150+GST per week.*

Or Call us for a rental deal.
The V4S LED Screen has been designed especially to give high definition LED play back. The V4S LED Screen will display 7 lines of text on a single screen.
This is ideal for mines site requirements as well as retail advertising or traffic requirements.
The V4S LED Screen is a first LED Screen, designed to operate in desert environments utilising an Australian made Aluminium trailer that is robust and tough and will not rust.

At the same time the V4S will operate in prestige dealerships and retail environments this unit is equipped with a content management system to load hundreds of advertisements which can be programmed and displayed on an LED Screen according to your requirements.
The Voxson V4S LED Sign can also display video presentations, TV (via a set top box) and live camera feeds.
This is not a problem for the V4S LED Screen because it has on board batteries and Solar to keep this LED Sign running and at a zero cost.
*Terms: Lease to own over 5 years with no deposit and no residual, subject to ABN number and finance approval. Please also note that repayments can be reduced dramatically with a deposit and or residual.
Mini Gallery – Voxson Mobile LED Signs
Promote your latest deals or new releases and capture new audiences with an LED sign from Voxson

Contact Voxson Today for the Best Deals on LED Signs
908 Kingsford Smith Drive Eagle Farm, QLD, 4009, Australia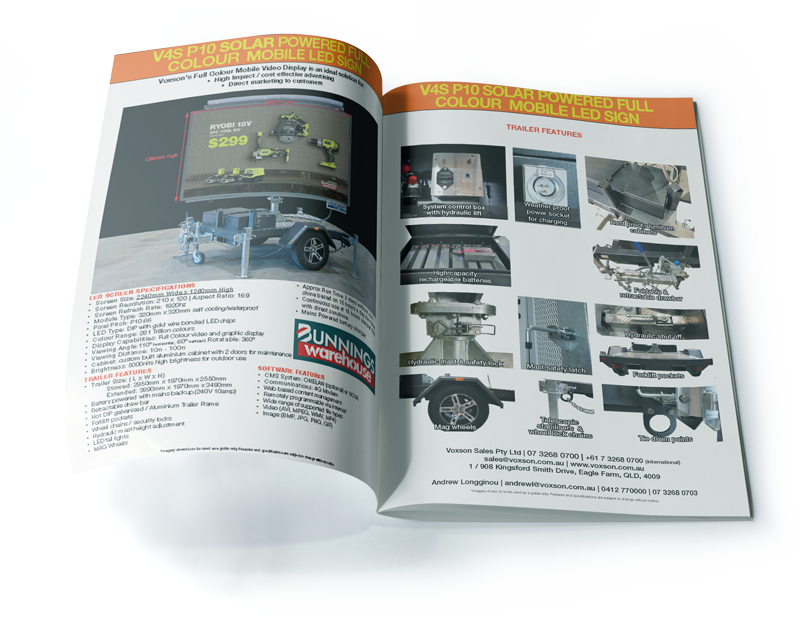 Download Voxson's Free LED Signage Catalogue


Other Voxson LED Products which might be of interest…